This repository will be versioned at periodic points in time with a Q1 Calendar Year target for major releases. Versioning tags will follow a pattern of `[MAJOR].[MINOR].[PATCH]`

Version Definitions:
MAJOR - significant changes rolled forward from the previous major version. Major versions MAY include breaking or non-backwards compatible changes
MINOR - backwards compatible changes that may introduce new functionality or extensions of objects that are backwards compatible
PATCH - minor changes that are non breaking and resolve discovered issues or bugs
As a rule, versioning will follow the specification outlined in the Semantic Versioning 2.0 spec This approach to versioning gives the ability to integrate with and provided automated testing and validation against defined types without worry of instability or breaking changes being introduced, while also limiting the frequency of possibly breaking changes to prevent a large number of incompatible versions.

To contribue to this vocabulary or reference technical details related to the project, please reference the primary README located on github

Please open an issue, if you wish to collaborate on this specification.

You may also reach out via the mailing list: public-credentials@w3.org (subscribe, archives)
Introduction
This specification describes how verifiable data can be shared securely over an authenticated channel. Specifically, a set of OpenAPI HTTP endpoints is defined, allowing authenticated data senders and receivers to exchange Verifiable Presentations.
In this interaction-model, the presenting party initiates an interaction, notifying the receiver. The presentation receiver responds to the presentation intention with cryptographic material for completing the presentation. This is used by the presenter for proving the Verifiable Presentation, which finally passed to the receiver.
The Open API Specification section covers each operation and provides example inputs and expected responses.
CCG Standards Stack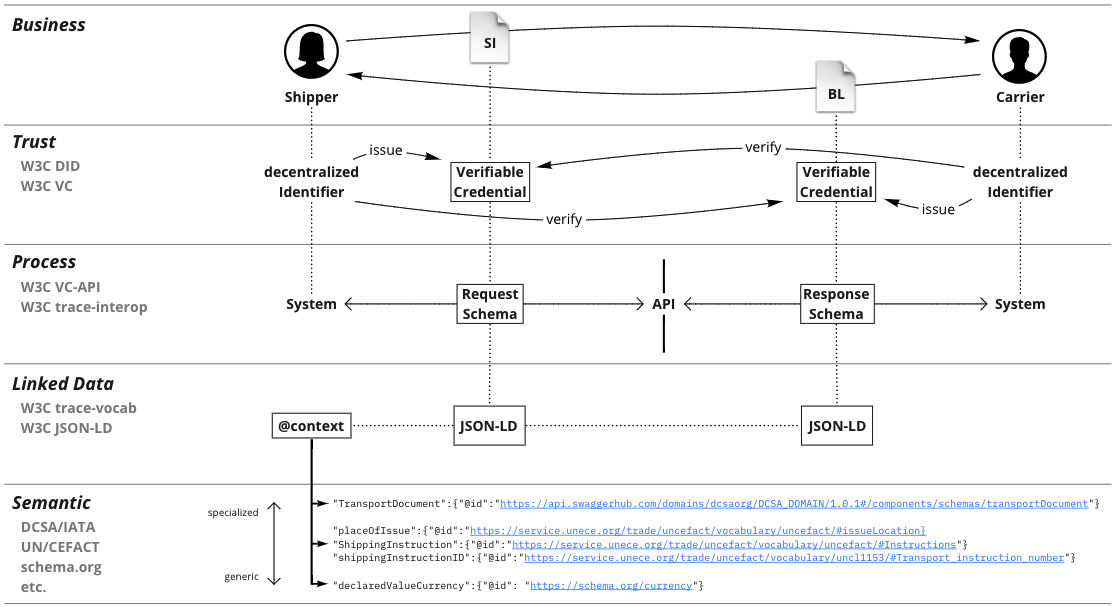 The above diagram illustrates how traceability-interop fits into the larger family of W3C CCG standards.
At the Business layer, supply chain actors are exchanging data in support of exchanged goods and services.
The Trust layer is supported by actors signing and verifying data as Verifiable Credentials.
The Process defined standardized APIs for how to exchange Verifiable Credentials (VC-API) and Verifiable Presentations (trace-interop).
Linked Data establishes concise semantic context of the data exchanged, enabled with JSON-LD by the trace-vocab specification.
Semantics are defined in a multitude of established vocabularies and come in many forms, from narrowly specialized, industry-vertical vocabularies, to broadly-applicable, generic vocabularies.
Workflows
Workflows enable presenters to correlate individual presentations. A workflow definition can be used to indicate that presentations relate to the same type of workflow.
Workflow instances indicate that separate individual presentations are part of the very same workflow.
Workflows for US Customs and Border Protection (US CBP)

In the above example, two separate 7501 Entry Summaries are submitted to US CBP at different points in time, and related to different imports. By specifying the same workflow definition, it is made clear to US CBP that both relate to the same type of import workflows.

The majority of data elements in a "10+2" Importer Security Filing must be presented to CBP no later than 24 hours before vessel loading, and the remaining data elements no later than 24 hours before arrival. Specifying the same workflow instance indicates to US CBP that the two presentations are part of the same import workflow.
A workflow definition indended for use with US CBP imports MUST have a corresponding plain text manifest document that may be uniquely identified, referenced, and retrieved by a third party in a publicly accessible and documented manner by the UUID of the workflow definition.
This workflow manifest document MUST list each required credential from the Traceability Vocabulary , one per line, and identified by the "type" of credential, for the workflow to be considered "complete". Completeness in this sense refers to an optimal state where all possible information that can be provided in relation to that workflow definition is present.
Following the credential "type" a space, followed by a numeric value that ranges from 0 to 1 MAY be added. If this value is not provided a value of 1 MUST by inferred by any system using this property. This numeric value MUST be referred to as "weight", and may be utilized to calculate a weighted average indicating the completeness of a particular workflow instance.
The standard calculation for weighted averages and algorithm for calculating this weighted average indicating the completeness of available information should be described, along with examples.
Stakeholders at US CBP should be consulted to determine if this weighted average SHOULD, MUST, or MAY be included with each traceable presentation.
Interoperability Testing
Participating platforms are proving actual interoperability by enrolling in continuous integration tests. These tests are based on Postman collections which orchestrate the interaction of participating parties; for example, `Credential Issuance`, `Credential Verification`, and `Presentation Exchange`. These Postman collections are described with a set of tutorials that show how to run the tests against a particular implementation.
An interoperability report is continuously created from the results of executing these collections, targeting the participating platforms. In cases of multi-party interactions (such as party A making a verifiable presentation to party B), all combinations of platform interchange are executed. The Interoperability report is executed by a GitHub Action on the Traceability Interoperability GitHub repository: https://github.com/w3c-ccg/traceability-interop/actions/workflows/interoperability-report.yml
In each test, the GitHub Action runner carries out a number of invocations, acting on behalf of varying parties taking different roles (`issuer`, `holder` and `verifier`), in turn invoking the participating platform. Below is an example of calls made by the runner as it is executing a DIDAuth Presentation Exchange flow:
Runner calls `/credentials/issue` on Party A's platform, representing Party A acting as `issuer`.
Runner calls `/presentations/available` on Party B's platform, representing Party A acting as `holder`.
Runner calls `/presentations/prove` on Party A's platform, representing Party A acting as `holder`.
Runner calls `/presentations/submissions` on Party B's platform, representing Party A acting as `holder`.
Runner calls `/credentials/verify` on Party B's platform, representing Party B acting as `verifier`.
OAS Implementation
The Traceability Interoperability Open API Specification is designed to be easily implemented and used to access conforming platforms. The following OAS modifications are required:
Add the target tokenUrl:

        components:
          securitySchemes:
            OAuth2:
              type: oauth2
              flows:
                clientCredentials:
                  tokenUrl: https://conformant-platform.example.com/oauth/token
        
Add the target server:

          servers:
            - url: https://conformant-platform.example.com
        
Privacy Considerations
Systems complying with this specification SHOULD leverage and comply with, and service providers complying with this specification SHOULD be able to provide results to, the guidance provided in NIST 800 53 rev 5 Security and Privacy Controls for Information Systems and Organizations
Security Considerations
There are a number of security considerations that implementers should be aware of when processing data described by this specification. Ignoring or not understanding the implications of this section can result in security vulnerabilities.
While this section attempts to highlight a broad set of security considerations, it is not a complete list. Implementers are urged to seek the advice of security and cryptography professionals when implementing mission critical systems using the technology outlined in this specification.
Disaster Recovery
Industry best practices related to disaster recovery should be followed by implementations compliant with this specification, specifically at a minimum guidance from the following whitepapers and specifications SHOULD be used:
Accessibility Considerations
There are a number of accessibility considerations implementers should be aware of when processing data described in this specification. As with any web standard or protocol implementation, ignoring accessibility issues makes this information unusable by a large subset of the population. It is important to follow accessibility guidelines and standards, such as [[WCAG21]], to ensure all people, regardless of ability, can make use of this data. This is especially important when establishing systems utilizing cryptography, which have historically created problems for assistive technologies.
This section details the general accessibility considerations to take into account when utilizing this data model.
Internationalization Considerations
There are a number of internationalization considerations implementers should be aware of when publishing data described in this specification. As with any web standards or protocols implementation, ignoring internationalization makes it difficult for data to be produced and consumed across a disparate set of languages and societies, which would limit the applicability of the specification and significantly diminish its value as a standard.
This section outlines general internationalization considerations to take into account when utilizing this data model.
Ethical and General Design Considerations
The W3C Group Note on Web Platform Design Principles should be utilized as general guidance for contributions to this specification, as well as for developers implementing a solution that is in compliance with or that interacts with solutions implementing this specification.
In general, when implementing any solution on the web, the developer should have a strong concern that their solution is implemented in an ethical manner that showcases the appropriate and ethical use of technology. Any such solution should provide a net positive social benefit, and be cognizant of the variety of principles that must be balanced when building and deploying a solution. The W3C TAG document on Ethical Web Principles provides a strong enumeration of these principles and considerations for how to best implement a solution with those principles in mind.